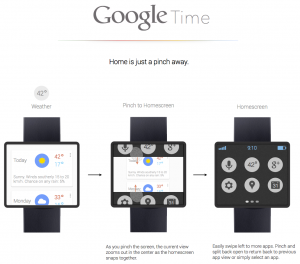 The Wall Street Journal reported that Google Watch is just a few months away as they reach out to Chinese manufactures.  They also supported the rumor it will run Android integrated with Google Now.  Makes sense of course.  They have been working on Google Now for a while, have it working with Google Glass, so it just make sense to leverage Now on a watch.  Based on what I read in the article, it does not sounds like Google is going to make the same mistake I feel Samsung is making.  My impression is they will be a solid device that will focus on only doing core things.  Google Now and some communication with other Android devices.
I think its too much to hope that the watch will work with iOS, but that is also to be expected.  The key question will be price point.  Right now the Google Glass is priced at $1,500 not exactly targeted at the mass market, but if they can come up with a good watch, WITH A SWITCHABLE BAND, I think I will shell out for it.  $200 would be my upper limit.
So lets see how the rumor mill turns over the next few months.