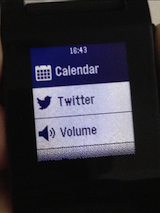 OK, so we still have yet to see the Promise on iOS unjailbroken fully realized, but we are getting closer.  A few days back a new App was deployed in the App store called Smartwatch Pro.  This app give those non jailbroken iPhone users a little closer to their Android brethren.  Here4 is what version 1 can do so far.
Calendar events + alarms
Twitter timeline
Volume control
Phone battery status
Find My Phone
The find my phone is a bit annoying actually.  I prefer to simply turn on music and find it that way.  So far it seems to work.  One point to make though.  All data is volatile meaning if you lost connection with your phone, you lose access to the data.  I do not find that a big issue, but once the Pebble SDK allows for storing data on the device, that could go away.
The only thing that did not work for me in the calendar alert.  Which is a shame because that is the one feature I was really looking forward to having that feature.  I may have to try a reboot or something.  Another caution, this does not seem to play nice with httpebble.  It appears you can only have one or the other running.
Else everything seems to work well enough. Its $2.99, 1.5 cups of coffee.  Worth it even if it extends the usefulness of Pebble on iOS a little.  I'm looking forward to the next upgrade.