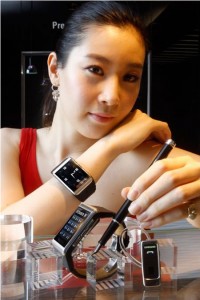 The news has already been out there, Samsung will release their watch Sept 4th beating Apple to the punch.  Apple may not be too worried about this since rumors hold that there will not be an Apple compatible version of the app anytime soon. One can even question if Apple would allow this in the first place because they can always fall back saying the Samsung app competes directly with a native function.
What we do know is the soon to be announced Note III will have the Gear app pre-installed.  I have already seen the App on the Galaxy S III, so odds are you will be able to install the app going back to most Galaxy devices with an updated Android OS.
Samsung has put a lot of work into the S pen.  I would not be surprised to find out you can use the S pen on the watch. Also, Samsung has been working on promoting its Chord APIs.  These APIs allow networked devices to pass information back and forth allowing a fluid experience from one device to another.  So one can imagine taking down a short note on the watch and flick it to your phone or tablet. And just the reverse as well.  You can be looking at something on your tablet and flick it to the Gear. Based on the leaked images, the watch face is pretty large, so very simple pen strokes could be possible.
Although there have been plenty of 'smart' watches released in the past 4 years, none of them seem to capture what The Pebble was able to do.  Create a watch that is highly flexible allowing developers to create new and innovative ideas for the device without being locked into one device.  And this will be key to the success of Gear.  Can you use it on other phones?  Most likely yes.
One of the reasons I supported the kickstarter for the Pebble was the fact I could use on any device.  Now that has not proven to be completely true since Apple's Bluetooth connectivity code is less the stellar. Something that should be addressed when iOS7 comes out. From what I have seen it looked like it can work on any Android device with the proper hardware.  This would also make sense from a product point of view.  To lock it to Samsung devices would be a very poor move. If you can get as many of these watches into as many hands as possible, the odds of a person choosing a Samsung phone would be higher.