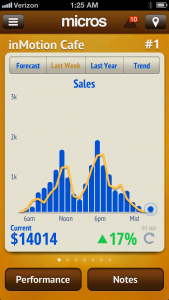 In the past year, we've seen rapid infusion of consumer technologies into today's workplace in the form of mobile apps. This trend is driven by two factors: the movement towards bring-your-own-device (BYOD), and the fact that enterprise apps now use consumer sales channels. As a result, user expectations on mobile are steadily rising, and customers now expect that the apps they use for work resemble their favorite apps like Facebook, Mail, and Google Maps.
The new inMotion iOS app, designed and developed by Qubop, combines the power of MICROS retail data services with a highly customized mobile interface. The app provides restaurant operators with real-time stats and feedback about their business from their iPhone or iPad. Our design goal for inMotion was to bring consumer-level polish to enterprise IT, and we chose a highly stylized, visual metaphor because this is not an accounting tool — it's a high-level view of trends and events as the day progresses, updated every few minutes. Significant anomalies, such as excessive meal discounts, lengthy kitchen prep times, or unusual labor costs, are surfaced as visible spikes or alerts via push notification.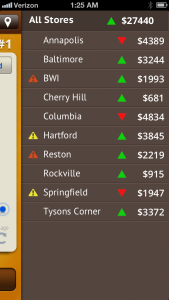 For us, the main challenge of this project was to distill the firehose of real-time restaurant information into simple data visualizations, highlighting only the most important factors for immediate use. The design of inMotion is a deliberate break from standard enterprise UI, employing a contemporary restaurant color palette and a highly animated, gesture-based interface. Our goal was to position MICROS as a forward-leaning company, staking out new territory in mobile and hopefully changing the way that restaurants are managed.
We designed and built the app over a 4-month period, beginning with a two-week design process at MICROS headquarters, where we worked with the company's technology, product, and sales departments to narrow the core feature set and produce detailed wireframes and mockups. Our iOS team then built out the app, including the custom graphing modules, driven by JSON APIs that we specified.
The app can be used by managers of single or multiple restaurant locations, whether they are on the property or managing remotely. Launching today in the App Store, the app is now available in the app store. MICROS has customers like TGI Friday's, KFC, Taco Bell, Pizza Hut, Great America and Aramark. We're happy with how this project turned out, and it has already been deemed a success by test customers and MICROS management, who describe it as "second to none in design and usability".