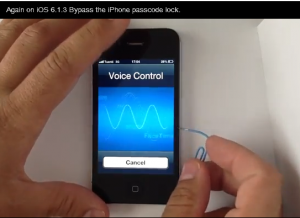 This is not that big of a deal, and if you are not using a SIM phone, you do not need to worry about it, but just goes to show that your phone is not completely safe.
The new lock screen bug was first documented by YouTube user videosdebarraquito, who posted a video demoing the procedure. The basic gist, seen in the video below, is to eject the iPhone's SIM card while using the built-in voice controls to make a phone call.
Right now, the video is not showing up because I have to guess too many people are loading it, but it should show up in a bit.  But as I always advise, if you do not REALLY need this update, do not bother with it.  There is a video posted on thenextweb, so I grabbed that.
Update; the iOS 6.1.3  security flaw can be avoided easily. You should disable the "Voice Dial" option if you want to be safe.   This is not confirmed.