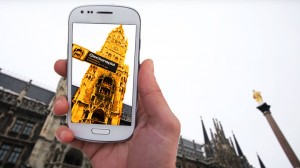 Metaio, a German based augmented reality software company, has stepped into the world of hardware with the announcement today the world's first augmented reality hardware chipset. Called "AR Engine", this development comes with an agreement from ST-Ericsson that will lead the integration of the chipset in ST-Ericsson's new mobile platforms. With this new level of computing power and efficiency, the future of high quality yet light weight AR glasses are in reach.
This development will mean an increase in performance, speed, and improvements in power consumption for mobile devices running augmented reality apps. Now augmented reality can be, "Always on, always augmented," says CTO Peter Meier.
This first-of-its-kind collaboration will improve nearly all aspects of an Augmented Reality experience, yielding performance increases in speed, precision and power consumption, with up to 60 times faster initialization, more than an AR app running on existing platforms – the highest to date in the mobile industry. Both Metaio and ST-Ericsson strongly believe that working together will accelerate the adoption of Augmented Reality as a consumer technology.

"The AREngine will do for Augmented Reality what the GPU did years ago for the gaming industry," said Metaio CTO Peter Meier. "This is a great leap in the AR space, and we strongly believe that the AR Engine working with ST-Ericsson platforms will help realize the Augmented City – the idea of a completely connected environment powered by Augmented Reality and made possible with next-gen, optimized mobile platforms."
Check out the full press release here.