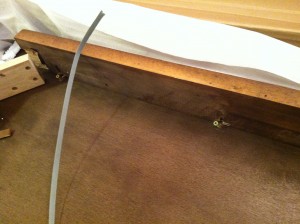 Normally when I buy furniture, I do like most people, go the to store, endless number of stores, and hopefully find something that looks good, fits, and in my price range, I buy it.  Well this time I decided to expand to looking online and went with Amazon.  Mistake.
I bought 4 chairs and table from Coaster Home Furnishings.  The table looked nice, just the style I was looking for, about the size and a good price.  So I pulled the trigger.  The Chairs showed up first.  No issues.  Some assembly required, but I'm pretty handy so done and done.  Great!  Now just need to Table to arrive.  And it was down hill from there.
The table legs were (I guess) strapped down to the underside of the table.  However, they broke lose and bounced all around the underside of the table breaking the sides of the table!  OK, well I thought this could have been nothing more than a case of bad luck.  I emailed the seller and they sent a FedEx guy to inspect it. Once verified, they shipped out a new Table.
While waiting, I told the seller they can easily avoid this by simply pouring packing peanuts into the hollow body of the table and even if the restraining strap was to have broke, there would not be any damage to the table.  Would be all of 1$ of packing peanuts to do this.
Two weeks later, I finally get the table.  Today.  Valentines day. I came home early to get the table all set up and ready to go for my girlfriend only to see… the EXACT SAME THING happened again!  Same type of damage.  Grrr…
I wrote back telling them to come get the table and give me refund.  Still waiting to hear back. I want a refund on the chairs too. I bought them as a set.