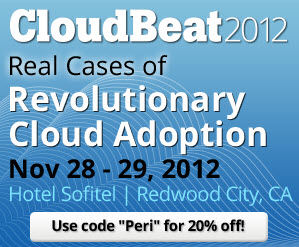 VentureBeat is holding its annual cloud event — CloudBeat 2012 — on Nov 28-29 in Redwood City CA, and I've got a special discount for 20% off!
Click here for the discount, and check out the details below:
It's unlikely that any single player will dominate the cloud computing market in the foreseeable future. So more and more enterprise IT leaders are taking a pragmatic, creative approach and adopting a wide range of solutions.
Unlike other cloud events, CloudBeat is putting those customers (the adopters) front and center to share their experiences and insights on what really works. Participants include:
Stephen Herrod, CTO, VMware
Amit Singh, Vice President, Google Enterprise
James Cuff, Chief Tech Architect, Harvard University
Sanjay Poonen, President & Corporate Officer, SAP
Lew Tucker, VP & CTO, Cloud Computing, Cisco
Frank Edwards, Director of IT Strategy, PepsiCo
Peter Coffee, VP of Platform Research, Salesforce
Rafal Los, Senior Security Strategist, HP
Gavin Blair, Director of Technology Ops, Patch.com
Edward L. Hanapole, CIO, Kaplan
Chris Kemp, Co-Founder & CEO, Nebula
Dr. Amr Awadallah, CTO, Cloudera
plus many more!
Another event highlight is the Innovation Showdown, a lively competition where we invite 10 new companies (vetted from over 150) that are leveraging the cloud in revolutionary ways to pitch live in front of an expert panel of judges and 500+ CloudBeat attendees.
Forge relationships with over 500 industry executives, with a mix of business and IT decision makers, analysts, investors, marketers, big brands/retailers, press, and more. Register for 20% off, and we hope to see you in November!