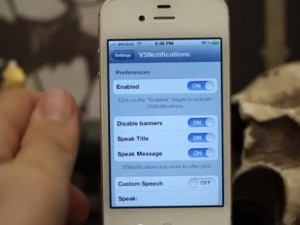 There is a cool jailbreak app that will read you banner notifications using Siri voice called VSNotifications.  Nice! Credit http://appadvice.com/ via 'The Great iPhone Jailbreak' for this one.
You can get this from the Cydia Store in the BigBoss repository.  Once installed you enabled it from a new pane that will be added to the Settings application.   Once done all incoming banner messages will be read aloud by Siri.  You can configure it too. It can be set to only read just the headline or the content as well.  It will also read the notification and a custom phrase before or after the message. This might make my top 10 jailbreak list!
Don't forget you have to have whatever app you want Siri to read to have banners enabled.
Yes we have a Video!  ( Young Ones anybody?)