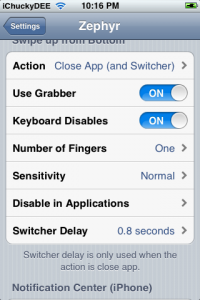 One of the most popular jailbreak tweaks "Zephyr" was recently updated to 1.3.5. Now enabling a multitasking gestures. The new gesture is new feature, which adds a Notification Center-like grabber for each movement.
This tweak allows these features to come to your idevice:
1.) Swipe up from the bottom of the screen to close apps
2.)Switch between apps simply by swiping left or right from the edge
3.)Moving with ease to swipe up to see your multitasking switcher
4.)Now you can swipe to check notifications and widgets, like the weather
The grabber add-on dosent just work when you install, you need to enable the little grabber for each gesture via the Settings app
(Settings -> Zephyr). And just enable the grabber. A nice little touch for an already amazing tweak
Check out the demo at http://www.youtube.com/watch?v=hCnYEXZbjCE&feature=player_embedded
It works on any 5.+ iOS and is a little pricey at 2.99. But i got it and its still one of my all time favorite apps.
Please let me know what you think by leaving me whatever feed back. Also you can follow me on twitter @ichuckydee -or- check out my FB page at Facebook.com/ichucky.dee. Thanks for reading.