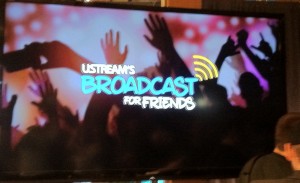 Got an iphone or Android?  We you have known for a long time that you can live stream video using a number of apps out there. However, typical mobile phone users do not do that. Instead they film something on their phone, update it later and share it later still.  What if you could live stream directly to facebook with 1 click?  And what if you can see real time reaction while your filming?
That is the idea behind ustream's new product Broadcast For Friends or BFF.  By making it super simple to broadcast life to you facebook friends or to the facebook public, ustream is hoping to open up a whole new market, the causal, personal broadcaster.  Or micro broadcaster if you will.   There are a few cool featrues, you can apply filters (meh) and you can switch between the front and back cameras as you film! ( VERY COOL)
They had a product launch party today and filmed the announcement.  Check it out.  Remember this is a new download, if you already have ustream, do not expect it to be part of the next update.
Ustream has also created a demo videoto showcase BFF's key features.