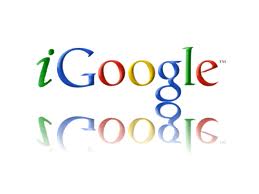 I rely on iGoogle.  Its my default page.  I love it because its simple, clean, fast.  Have my RSS feeds, mail, comics and weather.  Its great.  And now Google is going to kill it end of next year.  Damn.
So why is Google doing this?  Not to make friends thats for sure.  On the google forum they nearing 2000 message almost all decrying the end of iGoogle.  There is even a petition on change.org asking for this decision to be reversed.  Buts odds are it will not.  Why? Because Google is trying to narrow the pathways that people consume information to improve its efforts into social media.  And as much as I really hate losing iGoogle, it does make sense.  Right now google does not gain very much when you visit the iGoogle page. Yes there is the top admin bar that is becoming ubiquitous on all Google properties, but thats about it. Nothing to encourage you to share via google+, no adverts, nothing to get you to engage with the Google eco system.
The company did reply to complains recommending users to check Google Play or Google Chrome for substitute apps — which is pointless since the beauty of iGoogle is the  single, convenient page on which to have immediate access to appointments, important links, weather reports, new email, etc.
Sigh.. I will have to find a new homepage now… perhaps NetVibes…