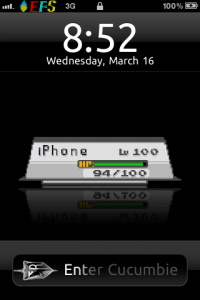 Thats right.  You can get your very one Pokemon battery level indicator for your iphone?  Why?  Really, you have ask your self that? Because Pokemon are the bomb man!  heh.. the bomb. How old is that saying?  Anyway, I figured I would post a link to where you can download the pokemon battery theme.  Found this on modmyi.com.  And of course you need jailbreak folks.
Enjoy~
BTW, just so not to leave you Android people in the cold, there is a Zelda battery indicator I found as well.  At the end of this post..
Repo: ModMyi.com
Version: 1.2
Author: Cucumbijuana
Section: Themes (Battery)
Identifier: com.modmyi.pokemonhpbattery
Maintainer: poetic_folly
Homepage: http://modmyi.com/info/pokemonhpbattery.php
File Name: pool/main/c/com.modmyi.pokemonhpbattery/com.modmyi.pokemonhpbattery_1.2_iphoneos-arm.deb
Size: 197310 bytes
Depends: winterboard
And here is the link to get your Zelda battery indicator.  Free.
http://android.podnova.com/software/554294.htm