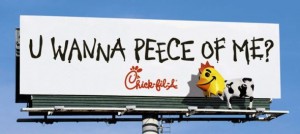 Seems like every year is here is some sort of PR fail or chick-fli-al that goes beyond a simple slip up to epic proportions.  And looks like we are approaching Critical Fail with Chick-fil-A 's ever expanding controversy over its stance on gay marriage. What started out as a protest against Chick-fil-A giving money to anti gay marriage organizations has blown up to letters from various mayors wanting Chick-fil-A out of there towns and even a reported fake facebook account using a stock photo image.  Reminds me somewhat of the Ocean Marketing Fail (although that still ranks far higher in epicness).
So some background.  The internet heat started to rise as people began a movement to boycott Chick-fil-A for supporting anti gay organizations.  As the movement started getting some traction and support from some high level celebs, the company released the following statement.  Here is an excerpt.
"leave the policy debate over same-sex marriage to the government and political arena." The company added that it has always aimed to "treat every person with honor, dignity and respect — regardless of their belief, race, creed, sexual orientation or gender."
Well that did not go over so well since the whole protest was around the accused $2 million to anti gay groups, but it seemed like a good statement and that could have eased the PR tension at bit.  But the President of the company decides to step in, and decidedly stepped in it by releasing statement stepping up to the plate and saying "guilty as charge".
Chick-fil-A is "very much supportive of the family," according to Dan Cathy, president of the popular fast food chain. That is, "the biblical definition of the family unit," he said. … And that doesn't include Adam and Steve, suggests Cathy, whose father S. Truett Cathy founded the Atlanta-based company.
Give credit for Dan standing up for what he believes in, but from a PR point of view, not exactly the best way to quell the controversy.  Basically as JC Penny and Kraft made it clear they had no issue with Gay marriage and accepted the good with the bad customer reactions, so it seems Chick-fil-A has decided to let the chips fall where they may.  Fair enough.
But then the failure grew.
First, Jim Henson Company pulled their toys from Chick-fil-A's kids meals.  And how does Chick-fil-A react?  Not by accepting this as part of the fallout for their position, but instead posting a false statement that the toys were recalled for safety reasons.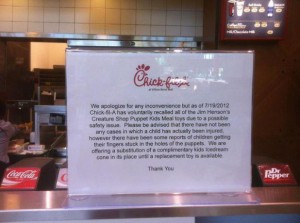 Wow!  So basically they decided to create a false safety fear instead of being honest and saying the Jim Henson Company pulled their product back?  Gee, wonder how many parents out there took they kids toys away because of this?  Nice one C-F-A.  Oh but wait, it gets worse.
So once this hit Reddit and the rest of the web, damage control needed to be put in place. So again, instead of manning up, the good PR folks at C-F-A decide to create a fake facebook account to get some positive socMed action.  Bad idea.  Not only way it pretty clear this was a fake account, but they got caught red handed and called out with the image they took from stock photo!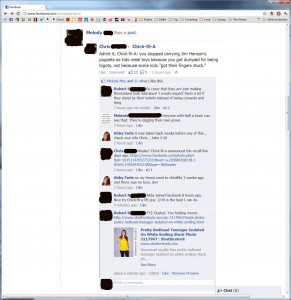 Now full disclosure, I'm not 100% sure how read this is, but so far I have not seen anything to make me think otherwise.
But this was not the end.  Oh no.  From pissing off the web they also mange to piss off a few Mayors, so much that the Mayor of Boston asked C-F-A NOT to come to their town!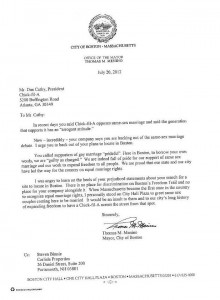 oh and it gets worse.  Now today we heard from Chicago that they are blocking the opening of a second store.
City Council member Proco "Joe" Moreno,  told the Chicago Tribune that he plans to prevent Chick-fil-A from building its second Chicago restaurant in his trendy, hipster-filled ward.
"If you are discriminating against a segment of the community, I don't want you in the 1st Ward," Moreno told the Tribune this week. "Because of this man's ignorance, I will now be denying Chick-fil-A's permit to open a restaurant in the 1stWard." Chicago's mayor, Rahm Emanuel, then follow up with  "Chick-fil-A values are not Chicago values. They disrespect our fellow neighbors and residents. This would be a bad investment, since it would be empty."
Its had not been all bad for C-F-A. Former presidential candidate Mike Huckabee began marshaling supporters to swarm into Chick-fil-A restaurants on Aug. 1. Conservative commentator Michelle Malkin blogged that Menino's "beef with the beloved chicken sandwich supplier is as full of holes as Chick-fil-A's trademark waffle fires."  Also, there have been plenty of tweets and conservative politicians stepping in with their support causing a mini run on the many C-F-A outlets in the US.  A very quick glance at Twitter seems to have it near 50/50 of those in support and those against.
Basically people are taking sides with their wallets.  Will this help or hurt C-F-A's bottom line is still to be seen, but hopefully a few lessons have been learned here, and this post is about PR, not the position itself.   If you want to take a controversial position, then do so and stand by your position.  Do not create PR failure but posting false statements and creating fake social media accounts.
More on this story as it develops.  And I'm sure it will.