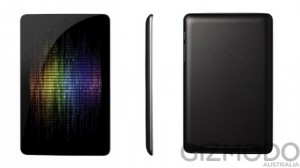 This is full on rumor, but heck, sounds legit.  This is coming from Gizmodo AU
As rumoured, Google's going to announce a 7-inch, Nexus-branded tablet called the Nexus 7. According to the leak, it's built by Asus, with a 1.3Ghz quad-core Tegra 3 processor, GeForce 12-core GPU and 1GB of RAM with two different storage variants: 8GB and 16GB.
The Nexus tablet will also feature NFC and run Google Wallet (probably only in the US) and Android Beam.
The screen is an IPS display with a 178-degree viewing angle, running a resolution of 1280×800. The device will also sport a 1.2-megapixel front-facing camera. The battery will also give you nine hours worth of operation.
The 8GB model will set you back $US199 and the 16GB will cost $US249. No word in the document on local prices.
Looks like its going run jellybean, 4.1.  There was talk the google may leapfrog to 5.0, but no evidence out there to support this.  The big news is the $199 price point.  I can see lots of pickup for this as well as a good premove to block Apple in case its thinking of a 7-inch tablet.
But again..  All rumer.  We'll see.