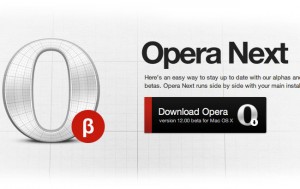 Opera released version 12 of its web browser today with a number of new features, improved performance, and enhanced support for modern web standards.
Feature Adds:
– Support for better personalization and wallpaper-like themes. A variety of browser wallpapers can be selected from the Opera public gallery.
– Support for CSS3 animations and transitions.
– Preliminary support for WebRTC, an emerging standard that is being drafted by the W3C Web Real-Time Communications Working Group. WebRTC will eventually enable standards-based audio and video chat in Web applications. There is also support for the WebRTC media capture APIs, which allow Web content to capture live media streams from the user's microphone and webcam. Due to the potential privacy and security implications, the user is automatically prompted by the browser before the feature is allowed to be activated.
– Support for the Do Not Track header. When the user enables the Do Not Track feature, the browser will append a flag to every HTTP request to inform servers that the user wants to opt out of behavioral tracking. Opera users can enable the header by clicking the "Ask websites not to track me" checkbox in the Security section of the browser's preference dialog. The feature is a welcome addition for privacy-conscious users.
– Process isolation for plugins that will considerably boost the browser's stability. According to Opera, plugins like Flash account for approximately one-third of the browser's crashes. Moving the plugins into a separate process will help address that issue.
– Hardware acceleration rendering to the entire browser, including the user interface and preliminary support for WebGL. Both features must be enabled in the opera:config panel in order to work.
Features Axed:
– Opera Unite and support for HTML desktop widgets that float over the user's desktop.