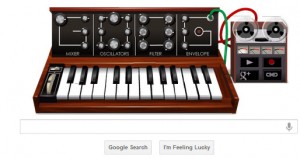 I know, horrible title, but I just could not resist.  As you have been seeing all over the news, Google's latest doodle is a working simplified Moog synthesizer.  WORKING synthesizer.  For those of us that are old enough, and were in bands, will remember playing with these at one point in time.  My mirage digital synth even had a Moog mode to allow me to recreate many of these sounds.  Awesome.  Now you too can me a Moog'er by playing with this doodle.  First a few tips to get you going. The synthesizer is fully functional including the oscillator, filter and envelope controls, and even supports multi-track recording.
* FIRST: Click on the doodle to activate
* To change the dial settings, click on the dial and move your mouse up and down, not left to right.
* To play use the middle keys on your keyboard (a, s, d,f g, ..) for the white.  This will start at C
* You can play lower 4th using the top row of keys (q,w,e,r,…) The kit the lowest key, click on 'tab'
* The number will get you the black keys.
You can use the Moog synthesizer to record and share as well.  You can share your creations directly to Google+ or grab a Google short URL to share it pretty much anywhere online.
Here's some of the Google Doodle Moog hits to appear online as listed on PCW
MGMT, Kids: http://g.co/doodle/grpstw
Daft Punk, Aerodynamic (guitar solo): http://g.co/doodle/s7hmgm
Deep Purple, Smoke on the water: http://g.co/doodle/m9yhhx
John Williams, Imperial March from Star Wars: http://g.co/doodle/jf5uc5
Ah-ha, Take on Me: http://g.co/doodle/59es5h
Europe, Final Countdown: http://g.co/doodle/w48m6u
Howard Shore, Concerning Hobbits from The Lord of the Rings: http://g.co/doodle/ggqnzg
Here is a starter video to get you going.