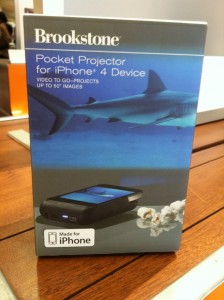 I was in brookstone a few weeks back and saw this; iphone pocket projector.  This is not the first pico projector I have seen, but seeing it in brookstone means its crossing the mark from a specialty item you see at CES to an everyday item you will see most (semi) professionals carry around with them… and perhaps a few gamers and those wanting to see watch movies and see pictures on something a bit larger then a phone.
Call the iphone pocket projector, its a dock for the iphone 4 coming in around $230..  Not too bad.  Now for $230 you are getting the most powerful thing in the world, but as you can see from the video below, its good enough to at see what is going on.  I would do try to display spreadsheets or anything on it, but in a pinch or when doing a simple demo, I think it works.  Here is a bit more from the site.
Its super-bright 15-lumen LED projector lamp ensures clearer, more brilliant images than other pico projectors. 640×360 native display resolution projects up to 50″ images. Focus adjustment lets you control image clarity while the integrated 0.5W speaker delivers the audio. Great for keeping kids entertained with their favorite videos on the road!

The Pocket Projector's built-in 2100mAh battery charges via USB connection with the included cord. When fully charged, the projector may also be used as a back-up battery for your iPhone 4 device.
BTW, on the site they are offering a $30 discount, so $200 total.  I'm sure you can get that past your budget manager.  Now check out the quick a dirty vid I shot.