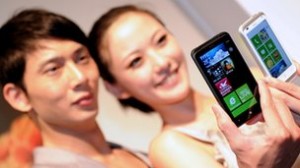 HTC has been the young upstart in the phone manufacturing business jumping fast on the Android train and getting a good chunk of the phone market after only 5 years. However, this year has not been so promising as shares of HTC fell on the Taiwan Stock Exchange after the company reported a sharp plunge in its profit for the first quarter.
Its shares dipped as much as 6.8% to 545 New Taiwan dollars which is in response to a loss of 70% from a year earlier to NT$4.46bn ($151m; £95m).
The numbers come as the firm faces increasing competition from rivals such as Samsung and Apple.  Clearly as more known names start to ramp up on Android, and Apple continues to fight to hold its lead in the market, there is little room for error for HTC.
HTC also reported a 35% drop in revenue for the period. Analysts said the weak results had raised concerns about the impact of the increasing competition on the firm's future growth.  Although this is just one year of bad news, and HTC is not complete a new kid on the block, remember, they have been building phones for other brands for a long time, it may not be time to count them out. The fact the stock is only under 7% indicates investors are expecting some response to reverse the trend.  Perhaps with the release of the HTC One, and hopes of windows gaining acceptance.  However, if 2012 shows further loss of market share, THEN it could be a time to panic.