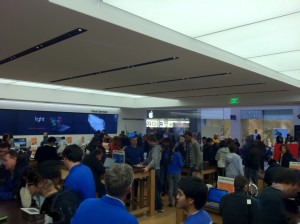 I heard about the Microsoft challenge where you would take your cell phone and try to do something faster then someone on a Microsoft Mobile 7 phone. If you can win, you get a laptop.  Given that they are doing this in the first place, I figured that this is fixed and as such I have not even bothered to try.  And now I have that confirmed based on an article from scattertech.
Well someone did and guess what, he won. But he did not get his laptop.  Why?  'Just because'.  Yes that was the reason. The short story is you are suppose to  "bring up the weather of two different cities."  Ok.  So Sahas Katta has his phone set, OUT-OF-THE-BOX feature BTW, such that it had instant on.  No swiping required.  And that is how he wins. He already has 2 widgets on his phone with weather from 2 different cities. Course I have to ask, who puts weather on two different cities on his phone desktop?  But that is another question.
So Sahas easily wins.  But did he get his laptop?  No.  Why?  Because they said he lost "just because".  What?  Then the manager comes over and says, oh well you needed to show the weather in 2 different states!  Are you kidding?
Here is the core of the post.
The Microsoft Store employee I was up against then explained the selected challenge. Her exact words were the following: "bring up the weather of two different cities." The one who could do that first would win. I felt like I struck gold since I knew I already had two weather widgets on my home screen:

After a three-second count down, I hit the power button on my phone and said "DONE!" out loud. I had disabled the lock screen entirely… I didn't even need to touch the screen, since the two weather widgets were already there.

My opponent finished a split-second later. She had two live tiles on her home screen displaying the weather of two different cities as well. Why does it take longer on Windows Phone? She had to perform two actions. First, she hit the power button to turn on the screen. Second, she had to swipe away the lock screen….

I excitedly thought I won out of pure luck. However, I was quickly told that I lost. I asked for a reason and was told Windows Phone won because "it displays the weather right there." That was rather unclear. I showed her my device which also was showing off the same information with two side-by-side weather widgets on the center home screen. After pressing for a better reason, I was told that Windows Phone won "just because."
Read the full post, and the comments.  Fun.
Here is the stock price for no reason
Microsoft Corporation Stock Chart by YCharts