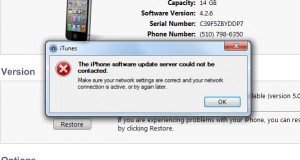 If you are like me and have not bothered to update to 5.0.1 because 4.x.x is working find and you do not feel like re jailbreaking your phone and installing and setting up things, well you just missed your easy bus.  I decided to do that iTunes update, *yes I know I will lose unlock, but I do not use unlock anyway so I don't care*, and its locked.  Yup, normally when this happens the Apple servers are getting ready to release 5.1 on the users out there and we do not have a solid jailbreak for it.
That's pretty fast. I really did not expect that till tonight but there you go.  Now dont fret. You can still download the .ipsw file from various places.  Right now I'm grabbing mine from softpedia.  Its still downloading so I have not installed it.
BTW, you should already know how to do this, but when you want to install a custom firmware version of the iPhone instead of what Apple wants you to have through itunes, download the correct .ipsw file for your model phone and follow the instructions from softpedia.
1. Download the firmware for your device
2. OPTION-click (on Macs) or SHIFT-click (on PCs) on the Update / Restore button in iTunes
3. Now you will be able to tell iTunes to use the IPSW file you downloaded to update / restore your iPhone/iPod
NOTE: To be able to download iPhone/iPod firmware directly from Apple you will have to follow these steps:
1.  Make sure you are using iTunes 8. Connect your iPhone to your computer.
2.  When iTunes opens, select your iPhone under Devices in the Source List on the left.
3.  In the iPhone Summary pane, click Check for Update.
4.  Click Download and Install. Do not disconnect your iPhone until the update has finished.