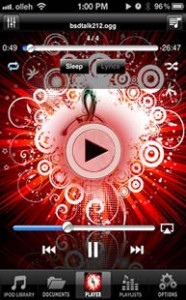 Yet another app that looks interesting but I have not tried.  Now before I cut and paste the email, a quick explanation of why you may want an equalizer your iphone/ipad.   First off, the sound on the iPad is not exactly Audiophile quality and odds are the files you are downloading are not exactly high quality either.  There is a reason most mp3, acc files are so small, lots of information is lost in the sake of compression.  Now lets add to the mix that their is a VERY large range of headset devices out there much less connecting your iphone ipad to external speakers.  As such, having the ability to adjust the sound to best adjust for weakness in the sounds aplifier and sounds quality is useful.  However, the best use case is for adjusting for whatever headset you are using.  Have cheap little earbuds?  You may want to reduce the bass a bit to clean the sound up. Perhaps boost the mid/high a bit to get what fidelity you can. Have a really nice enclosed headset (cans)?  Then perhaps just the reverse.  Let some of the bass flow and flatten the bandwidth for a nicer more balanced sound.  Riding the bus or biking or other some other load environment?  May want to crank the mids a bit so that you can hear the music without having the blast it.
Anyway, a few tips from a recovered audiophile.  Again, I have not downloaded this app, but given that the creator is trying to address the biggest reason I do not use a eq to date, battery life.  An equalizer can really suck up power as well as warm your phone a bit.  Perhaps we have a fix here.
Professional Equalizer + Full featured FLAC/OGG/MP3 Player for iPhone/iPad
HIGH PERFORMANCE EQUALIZER
✔ Highly optimized equalizing algorithm. Uses much less battery than other EQ apps with comparable algorithm.
✔ High quality equalization without distortion. Uses 32-bit float processing.
✔ Draw EQ curves without limitation of number of points.
✔ Realtime spectrum output.
FULL FEATURED PLAYER
✔ Play directly from iPod Library without importing
✔ FLAC/OGG file support
✔ iOS5 lock screen album art & meta-data support
✔ Multitasking & remote control support
✔ Customizable gestures
✔ Multiple playlists
✔ Scrubbing, repeat, shuffle
✔ Supports ID3 lyrics, album art
✔ Transfer songs between PC/MAC using iTunes files sharing
✔ iPhone4/iPad retina ready
EQ PRESETS
✔ 12 built-in EQ Presets
✔ Unlimited user EQ Presets
✔ You can set EQ preset for individual track (EQ preset for song is automatically loaded when played)
Here is the info page:
http://mix1009.com/equalizerpro
YouTube video:
http://www.youtube.com/watch?v=9anLQir4VKY
iTunes link:
http://itunes.apple.com/us/app/id505170168?mt=8