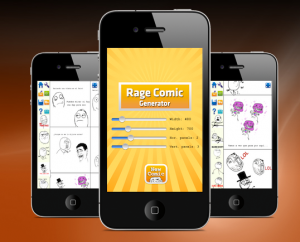 Ok you rage comic writers, Rage Comic Generator is now in version 1.1 with the added ability to paint you comics as well. (I have a bad feeling about this new feature) However, since I missed 1.0, I thought I would at least post it now.  This does the basics you would expect; take the plethora of rage comic memes out there and let you create and post your own comic. Now if you do not know what a rage comic is, you have a lot of catching up to do.
– Paint in the comic
– Drag, enlarge, rotate or flip your memes to layout your comic as you want.
– Export your creations to the camera roll or send them directly by email.
– Use any picture from your camera roll inside your comics.
– More than 240 memes included
This is not the first tool by any means, heck you can even put rage comics in you IM's, SMS text messages and email. You say you want to use rage comics in Facebook? Got you covered there as well.
And just for fun, here is a brief and incomplete rageface timeline of when they came out.