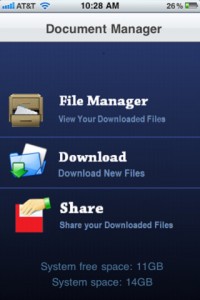 I have not tried this myself, but its looks pretty good.  Not only can you download and read major document types, you can transfer them from a PC or a Mac,  Nice eh? At $2.99, its a pretty good deal especially if you are on the road quite a bit and need to get to files quickly.
Now as cool as this is, remember this is just a viewer, if you need to edit said docs, you need to look for another app.  So check out the specs from the site..
– Download, Store, view and share documents on your iPhone, iPad or iPod touch, transferring them easily from any Mac, PC or from Internet.
– Create & Manager Files and Folders on your iPhone or iPad
– High quality viewer, including excellent support for Microsoft Word, Excel, Power Point, PDF and full-resolution images.
– Download files from the internet.
– Full integration with Google Docs and Dropbox.
★ Files and Documents Viewer
Files Plus features outstanding file viewer that:
✚ opens large Microsoft Word,Excel, Power Point, RTF and TXT files
✚ PDF files
✚ Unzip .zip or .rar files
✚ PNG or JPG files
★ FILE-MANAGEMENT
✚ Move, copy, delete, rename, unzip files
✚ Create folders, all from within Files Plus.
✚ Navigate Files and Folders easily
★ MAC or PC Connectivity
Transfer documents to Files Plus over Wi-Fi using any web browser. Like a wireless flash drive. No additional software is required.
Alternatively Files Plus supports USB transfer via iTunes File Sharing by Drag & Drop like a USB Drive.
Any Mac OS X, Windows XP/Vista/7 computer can connect to Files Plus.
★ INTERNET BROWSER
Using the built-in browser, easily download files, documents and email attachments. Keep pressing a link on the browser to download the file on your iPhone, iPad or iPod