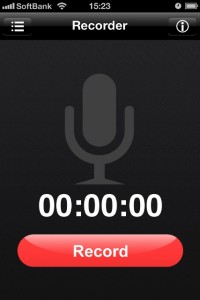 Simple enough, you are talking on skype or some other VoIP app and you realize, you need to record this since if you are talking on your iphone, odds are you are not at your desk to take notes in the first place.  Do keep in mind that you have to let the other people you are talking with know you are recording the conversation.  Well at least in the US.  Heck this rules has tweaks state by state, so look it up.
Anyway, check it the video below.  I can see this as a core app for the mobile professional office.
Here is more about the app from
SkyRecorder allows to record conversation in iPhone/iPad while talking using Skype. You can do that in following ways –
1. Tap "Record" button in SkyRecorder after that make a call using Skype.
or
2. Make a call using Skype and set it to Speakerphone. After that tap "Record" button in SkyRecorder.
Even you can use this app as regular voice recording application.
Other Features:
・ Unlimited recording time
・ Restart recording after interrupt by incoming call on Phone
・ Supports external stereo mic (tested with Tascam iM2)
・ Audio files Export/Import over the USB using iTunes(*.wav only)
・ Supports any OS(Mac,Windows,Linux, etc) to play recorded files
・ Simple user interface
Important Notes:
* This app is not affiliated with or endorsed or sponsored by Skype Inc.
* The Skype word appears in any area that is trademark of Skype Inc.
* This app does not record Phone conversation.