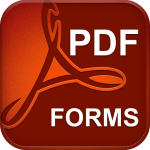 Got this in the email and have not tried it but it looks useful. The app is called Dar-Soft's PDF Forms for iPad and is designed to support annotating, filling out and signing forms and documents.  I can say that more then once I have looked at a PDF and would have liked to dash off a few notes or fill it out there and then.
You can mark up PDF docs with written notes, highlights and more. PDF Forms enables filling out any kind of forms to manage surveys and email results or share them via Dropbox. PDF Forms works with any PDF file received by email or via iTunes file sharing, loaded from Dropbox folders and opened from any application which generates PDF files such as PDF PROvider.
PDF Forms 1.5.0 is $8.99 on the App Store.