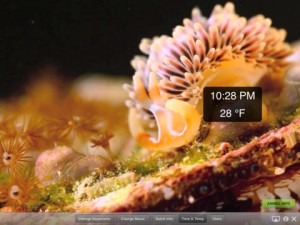 If you really like beautiful and interesting aquatic life , then this app is for you. Real Aquarium HD.  At the basic level, its a series of HD videos of various sea creatures chill'in (sorry) in the sea.  However, this app provide a second layer where you can learn about each sea creature you are viewing. Nice. Although a 'free' app, you do need to pay for more creatures.  From the iTunes page..
✓ Real Aquarium HD Store
– While we're giving you every feature in this app for FREE, the built in "Real Aquarium Store" allows you to choose and purchase the species you want to learn about and view. (Check out the
– You can even leave the app when your new HD footage and encyclopedia information is downloading. And to top it off, we'll send you a notification when your download is finished.  Here are the current top downloads…
Jellyfish

$0.99

Dolphins

$0.99

Sharks

$0.99

Caribbean Reef Sharks

$0.99

Time & Temperature

$0.99

Oceanic White Tip Sharks

$0.99

Lemon Sharks

$0.99
✓ AIRPLAY MODE
– For owners of the Apple TV, "Real Aquarium HD" will automatically detect it on your network, and you'll see an airplay mode button in the toolbar. From here, you can go into airplay mode to stream the aquarium video to your widescreen TV. When the video is streaming to the TV, Real Aquarium HD on the iPad goes into a fullscreen "encyclopedia mode" which allows you to read about the animal while you're viewing it on your HD television!
Be warned, this can take up LOTS of space on your ipad, but if you are near a wifi connection, you can get the video streaming.  I would highly recommend that.  Hopefully this can be address in future versions.
I wonder how my cat will like this?