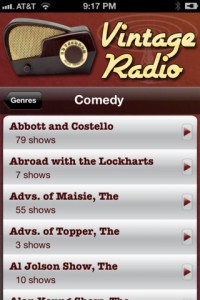 With more and more non young people getting on the iphone, I guess it was just a matter of time before some decided to put a collection of older radio shows together for the older iphone users, and those who still recognize the brilliance of some of those old shows.
The app is called Vintage Radio and is basically a more full featured version of the original app Vintage Radio Lite.   Some of the new features are:
Playlists – play one show after another, in any order.
History – view and access the shows you've enjoyed.
Popular – see what others are listening to.
Control Panel – share shows via Facebook & Twitter or email them to a friend.
The app does cost money to download, $3.99 and with that you get  2,500 shows by default and no further purchase is required to enjoy those shows. To gain access to all 36,000+ episodes three auto-renewing subscription options are available.
1 month subscription for $1.99
6 month subscription for $10.99
1 year subscription for $19.99
So I guess if you are REALLY into getting some of those old shows, $20 bucks is not all that much to ask.