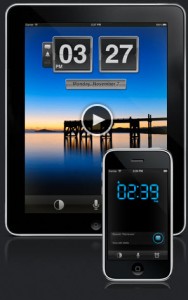 I have not downloaded this, but by just watching the video I'm already sold.  What is interesting and cool about this iphone alarm clock app is that it does more then just wake you up.  Once you are awake, it has voice commands for follow up actions.  Snoose, reset the alarm time, etc..  Better, you can ask it for the time, play a radio station or ipod music or read your tweet and facebook messages. (although if you are checking that first thing in the morning, I think you have a social media addition going on. )  Check the video at the end of the post.
My interest is how well can I use it for voice commands.  Already I have a pretty good solution using VoiceActivator for voice commands. If this works as I think it can, it could be a great solution for people driving and biking who, do not want to jailbreak their phones and second, do not have the iphone4s.  We'll see though.
Here is the list of features from the promo email I got.
·      Internet radio or songs from your playlist
·      Local or world news stories
·      Weather & forecast reports for the day
·      Events listed in your personal calendar
·      Birthday reminders for family & friends
·      Facebook postings or Twitter feeds
·      Pre-recorded "celebrity" wakeup messages
·      Sport scores, traffic reports or your favorite blog
·      Horoscope, joke of the day or a daily inspirational quote
·      Your own voice-recorded message
·      Custom messages that you type and have read to you
·      Podcasts or audio books
·      Over 20 unique alarm sounds
You can also have some fun with Wake Smarter:
·      Wake up to "celebrity" messages from Homer Simpson, Beavis & Butthead, Stewie from Family Guy, President Obama and more!
·      Be a little mischievous and type in your own naughty message and have it read to you when you wake. Anything's possible!!
·      Get your partner or your children to record a voice message that you can wake up to while away on a business trip.
I'm going to download this guy tonight and start messing it.  I'll update once I've played with it a bit.