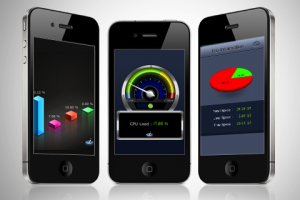 For jailbreakers, we have had access to system info for quite awhile now using SBSettings, and although this new app still does not have all the capabilities of SBSettings, at least its something; CPU, Memory and Battery Status. Before iOS4 users would not have to worry about such information. But now that more and more apps are running in the background, and we are running more and more depending apps, especially games, having the ability to monitor your iphones operating status could be useful in knowing why your iphone is slow, or not holding a charge.
There are a few other neat features.
CPU Load shows the load on your device's processor as well as System information lets you know about your device's unique id, MAC address, IP Address, device name and model, OS Version, CPU and Bus Frequency and your device's last boot time i.e. last time when you switched on your device.
System Monitor with Battery Max 1.7 is $0.99 USD (or equivalent amount in other currencies) and available worldwide exclusively through the App Store in the Productivity category.
System Monitor with Battery Max 1.7: http://sysmon.tektontek.com
Purchase and Download: http://itunes.apple.com/app/system-monitor-battery-max/id386118145
YouTube Video: http://www.youtube.com/watch?v=0rlN7swPplI
Screenshot (Speedometer View): http://i974.photobucket.com/albums/ae224/tektontek/System%20Monitor%20with%20Battery%20Max/freeusedprocess.png
Screenshot (Memory, CPU and Disk): http://i974.photobucket.com/albums/ae224/tektontek/System%20Monitor%20with%20Battery%20Max/help3.png
App Icon: http://a3.mzstatic.com/us/r1000/067/Purple/1e/c4/c8/mzl.lflbghlb.175×175-75.jpg