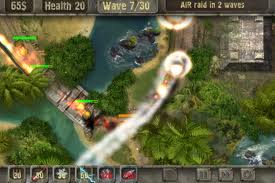 Artem Kotov released version 1.0 of their new game Defense Zone for the Apple iTunes App store on December 19. While not without some minor flaws, this tower defense game puts its mark down as one of the stronger games you can purchase for your iPhone, iPad, or iTouch today.
While I'm not a huge fan of tower defense games (I've been playing them since their rise in StarCraft: Brood War), Defense Zone definitely brings some improvements and innovations to the genre. What struck me immediately was the presentation of the game. The graphics are top notch when compared to any other iOS app, and the sound effects , while normally not a huge factor in tower defense games, are extremely well done. Defense Zone also brings a lot of improvements towards tower defense gameplay as well. If units get past your defense, Defense Zone allows you to fast forward their pathing, so you can spend more time progressing and less time being upset at that one foot soldier with ten percent health left. Defense Zone also caters towards the hardcore tower defense gamers, as upgrades must be done on the fly since there is very little time between waves. The learning curve is a bit steep, and will take even the most grizzled defense veteran a few tries to perfect just the first level. They also add an extra prioritization feature to your towers, as you can assign whether it attacks the nearest unit, the strongest unit, or the weakest unit. This adds an entirely new dimension towards planning how to group up your towers.
There are some points for improvement, however. What bugged me the most was there were no tooltips or descriptions for my towers, meaning I had to sacrifice a run through each level just to figure out a tower's properties every time a new one was unlocked. Also, when it came down to the wire, I noticed that bigger units, like trucks and tanks, would be carrying multiple foot soldiers within them. When they died, they would basically multiply into 2-3 more units. However, if a truck got through without being destroyed, they would still only count for 1 life, which is the same amount that their foot soldier inside would count for. While there are pros and cons for both sides of the argument, I feel that logically, a truck carrying 3 foot soldiers inside of it should at least count for 3 lives. I don't feel a game built around destroying all units should give you any incentive to leave one alive.
This is still a new version and the game can definitely be patched to fix all of my gripes. At $1.99, Defense Zone is amongst the pricier tower defense apps for the iTunes app store as well. However, even someone as worn out from the genre as I was found great enjoyment in the game, and whether you are a hardcore tower defense gamer looking for a challenge, or just looking for a new app to kill some time with your iPhone, then the $1.99 price tag is worth every cent. I would personally recommend it to all my friends, unless they absolutely hated tower defense, so even if you're just a little curious about this new app, don't hesitate to spend a couple of bucks! The app takes 272MB of space and is rated 9+ for Infrequent/Mild Cartoon or Fantasy Violence.