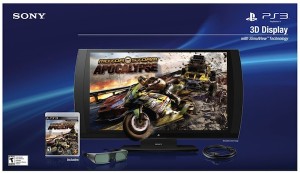 Sony introduced their 3D gaming and TV monitor.  Its 24inch with 2 HDMI inputs that supports 3D.  But that's not whats cool about this.  Sony introduced a technology called "SimulView".  This technology allows two players to have full screen view at the same time!  This is pretty cool and most likely not that hard to do when you think about it.
Typically 3D displays get that effect by switching between two views, left eye, right eye, really fast in sync with your 3D glasses.  Well take the same idea but instead of switching between the view of left and right eye, you switch between player 1 and player 2.  This is really clever when you think about it. I totally see this becoming a default feature that all multiplayer games will support when connected to a 3D TV.  That can work for 4 players as well, 2 see a split screen and the other 2 see a split screen.  Nice.  Heck for the VERY special displays, I can see the sync being doubled to support 4 viewers.
So if we can two 2 different displays, then that mean two people can watch two totally different programs at the same time!  So imagine your girlfriend is watching football and you can watch that sappy drama you love.  (Hey, it could happen..) And this is a TV and computer monitor, all your viewing needs in one.
The Monitor goes for $500 and should be available now. So if you have a gamer in your life (and they could do with a new TV anyway) this could be the perfect gift.