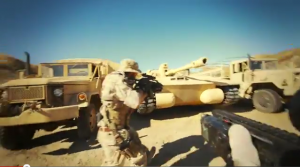 Wow, if you have not seen this video preview of Battlefield4, then you are missing out!
Take a look at those shadows!  Lets see your xbox do ground deformation like this!  And avatar rendering.  TELL me this does not look like real life.
Hyper realistic, you can shoot while being dragged as well as dragging someone. Nice.
Riding in the back of a hmv? You can high 5 your buddy. The AI still has issues though, one AI ran behind and chanced a hmv. Wat? However, in BF4 you can shoot from the back of a rolling vehicle. Sweet!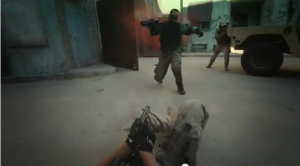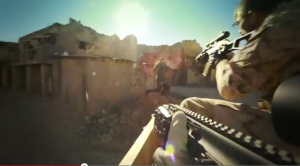 And didn't I say realistic? Yea!!!  Notice the tape on the glasses.  Nice touch.
There are still issues, the AI still do dumb things, like chasing your jeep or worse sneaking up behind you and then hesitate before putting a bullet in your not paying attention head. Still, makes for good game play if you can switch weapons, do a 180 and shoot.  Right..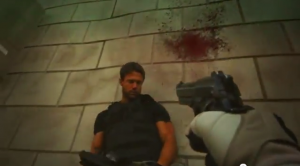 If you have not figured it out by now from the sceenshots, this is a joke review of BF4. Heck BF3 just came out. This is a video from freddiew. If you have not seen his work then stop reading this post right now and go check out his YouTube channel.  The video in question was shot on location on the set of The Controller.
However, the points I listed above are some cool things I WOULD like to see in BF4.
Anyway, checkout the video.  Its pretty cool.  Classic freddiew. Although Medal of Honor Cat is better.