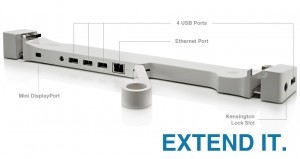 There are already a few docking station for the MacBook Air, but this is the cleanest, coolest and more elegant of any docking station for the Air I have every seen.
Called the Landing Zone, this does pretty much does what you expect, external video, extra USB ports, eithernet and audio. Its how it does it that is so cool. As you can see in the pics, its thin and light and connects using the two USB ports on the side. The docking station uses these two ports to not only communication with your MacBook Air, but secure it. Nice eh? And because its so thin and light, it does not even look like you Mac is docked as much as leaning on a thin bit of plastic. Course, the wires are still going to look messy, but so creative layout could deal with that.
There are more images and video at their site. Check it out.
http://landingzone.net/
The company hasn't begun manufacturing its hardware yet. In fact, it has just put the LandingZone project on funding platform Kickstarter, and wants to raise $50,000 to begin its first production run. Backers who pledge $139 or more will be among the first to get their hands on one. The company has also raised $500,000 in angel funding.