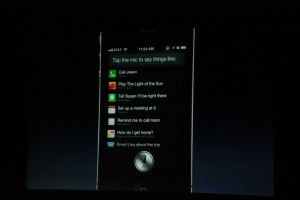 So its the iphone 4S.  This is not news since its slipped out last week from an iTunes oversight.  The outside is the same, but the internals have changed.  The dual-core A5 is the big game changer… for games that is.
** Apple stock has now fallen 3.42 percent, while the NASDAQ is down only half of a percentage point. **  Wow.
There are two antennas, one for sending, one for receiving.  Makes sense. And as expected, we have both GSM and CDMA support, so we should see it on Sprint and T-Mobile. (Hmm, they said Sprint but not T-Mobile).  Eh?  All other phone makers should take note.  The only other big improvement I see here is with Siri.  They really did a lot of work to try to improve voice support, and it is impressive. But missing is the ability to call 3rd party apps.  Guess I keep using VoiceActivator, my jailbreak voice command app.
I have always thought voice support was weak.  Seems they notices and have tried to improve Siri  However a waring of 'Betaware' was spoken.  Not good.
All and all, its not that much of an update, thus they made it an 'S' and not iPhone5.  The faster chip with make for better games as well as photos and movies will see an upgrade, and voice control (assuming they get the bugs out) will be a big win, (although no ability to listen to and respond to email is a major fail).
Notes:
Siri: Users hold the home button for two seconds and it pops up (instead of Voice Control). Also works with "do I need a raincoat today?" And it responded by saying (literally saying) "It sure looks like rain today."
"Wake me up tomorrow at 6 a.m." and it goes "Ok, I set it for 6 a.m."
How is the NASDAQ doing today?" responds "NASDAQ composite is down right now, at 2,321.70"
Partnered with Yelp, Forstall says. "Find me a great Greek restaurant in Palo Alto". Responds with "I found 14 Greek restaurants, 5 of them are in Palo Alto," then lists them with Yelp star reviews.
Now Forstall asks for directions to Hoover Tower. Then fires up the maps app, complete with directions.
Forstall now showing how you can use Siri to respond to text messages. It reads the text message when it comes in, and lets you respond with your voice. Forstall first asks Siri if his schedule is clear before responding to a SMS from Schiller if he can meet up for lunch on Friday.
Forstall goes ahead and books a meeting, saying he wants to meet with Schiller for Friday. It pulls up a calendar invite. "All hands free just by talking to my iPhone, and by talking to Siri. But there's more," Forstall says.
Remind me to call my wife when I leave work." "here's your reminder for when you leave work…shall I create it?" Siri asks.
 "Convert 45 Euros to dollars". Also gives you a breakdown of other currencies
How many days are there until Christmas," Forstall asks. Uses Wolfram Alpha to give him 82 days as the answer. Also 2 months 21 days.
Can play songs, call people, create text messages, set up meetings, reminders, directions, and dictate e-mails. Also does weather. Also: stock prices, set alarms, look up addresses, write notes in the Notes app, search the Web.
Camera and Video
73 percent more light than the iPhone 4 sensor. 8mp camera.  NICE!  Needed too.  Taking shots in low light and using the flash has been a big fail. New lens is 5 elements that results in 30 percent sharper.
f 2.4 aperture. Adds face detection, 26 percent better auto white balance, and takes photos faster too.
Video is improved also. 1080p HD video, real-time video stabilization, noise reduction filtering. AirPlay mirroring coming to the iPhone 4S. Can mirror what you're doing if you have an AppleTV. Also works with HDMI adapter the company sells.  Not sure how much I really care about this.
…
Phone 4S has 5.8 Mbps up, 14.4 Mbps down speeds. HSDPA, not LTE but better the 3G.
Schiller saying battery life on the iPhone 4S is 8 hours of talk time over 3G.
2G talk time, 14 hours.
3G browsing 6 hours
9 hours of Wi-Fi
10 hours of video
40 hours of music.