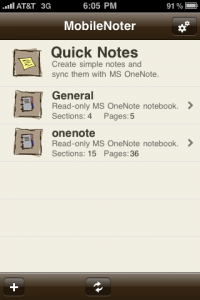 Took long enough, but finally. You can create a oneNote page with mobileNoter.  I have not tried it yet, but wanted to get the word out there.  Here is the press release.
Yes, it finally happened: we have released a long awaited update for the MobileNoter for iPhone, version 2.4.
The most important changes in this update are:
Page creation on your iPhone: Now you can create a new OneNote page right on your iPhone.
But that's not all: you can also delete the pages you don't need anymore and move freshly created pages within your notebooks. Page titles are also editable now.
New synchronization, reliable and convenient: now you can seamlessly use both types of synchronization (Cloud and Wi-Fi) at the same time. Also, it's possible to sync multiple devices with the same Cloud account and to sync multiple devices with the same PC through Wi-Fi.
Better UI for better user experience and productivity: another option our users were dreaming about is a To Do tags filter. It's an ability to view only unchecked To Do tags in the tags summary. Focus on getting things done!
If you want to clean up your cloud storage, you don't have to deselect all notebooks and run sync anymore: now there is a single button for this purpose in the Windows Sync Client. Don't waste your time on running unnecessary sync in this case!
We hope that our new release will become a great improvement to your mobile OneNote experience!