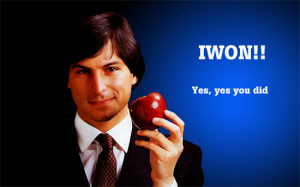 It was only a matter of time, and I guess the time is now.  Steve Jobs has resigned as CEO of APPle. So what does that mean?  In the short term, not a lot.  The stock market has not responded much in after hour trading, but we will see tomorrow.  This has been long in coming and as expected Tim Cook will take over.
Quick update.  In after market trading, Apple (NASDAQ:AAPL) stock dropped $25 and bouncing around $355.  Will be interesting to see what happens.
With the iphone 5 and ipad 3 pretty much done and ready for market, icloud released and the macbooks finally gaining a strong hold on the market, its not like he has big ideas that are in the middle of development. Now its more about execution, working the edges and making the "I" vision that started 4 years ago more sharp.
"Steve's extraordinary vision and leadership saved Apple and guided it to its position as the world's most innovative and valuable technology company," said Art Levinson, Chairman of Genentech, on behalf of Apple's Board. "Steve has made countless contributions to Apple's success, and he has attracted and inspired Apple's immensely creative employees and world class executive team. In his new role as Chairman of the Board, Steve will continue to serve Apple with his unique insights, creativity and inspiration."
"The Board has complete confidence that Tim is the right person to be our next CEO," added Levinson. "Tim's 13 years of service to Apple have been marked by outstanding performance, and he has demonstrated remarkable talent and sound judgment in everything he does."