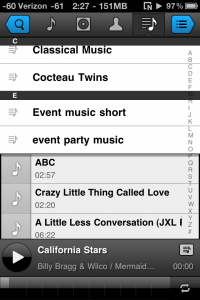 Its no secret I'm not a big fan of the itunes player on the iphone. Navigation is my biggest complaint.  Seems someone agrees and created a far better ipod app.  PanAmp.  There are some many thing this does that its actually better to watch the video.  Insert below.  My favorite feature is the speed and ease to create a playlist on the fly.
Other wins is a powerful search that lets you search. You can search, order by artist, album, or song, and view current playlists. To create playlists you simply flick a song to the right and to view more information on a song, flick to the left.  I also like the fact you can drill down from list, to artist, to album to song. Nice.
Below is from their site, which tells somewhat, but again, check out the video below.
PanAmp is on itunes for $2.99, worth it if you use your ipod quite a bit.
Overview
Power Search
Locate artists, tracks or albums quickly and efficiently using Power Search. Just swipe your finger over a song and the related artist and all their albums will be displayed.
Music Library
Organize your music as never before using Panamp's resourceful cascade view. Arrange your music by artist, album, track or iTunes playlist, expanding and collapsing sections with a single tap.
Dynamic Queues
Browse your entire music catalogue by any method and add the tracks to your queue with a simple swipe. A seamless list of tracks is gathered in the background, allowing you to create the perfect soundtrack on the go.