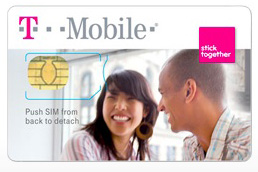 Great, so now you can get a micro sim from T-Mobile. What does that mean?  Well, you may know that over one million iphone are running on the T-Mobile network despite the fact that you cannot run 3G. However, what you may not know is that you have to take a pair of scissors (or exacto-blade as I did) and cut the card down to fit into the iPhone micro-SIM.  Well no more.  T-Mobile has come out with a micro-SIM that you can get with various plans they offer.  Nice.  This is the first step for accepting what T-Mobile hopes is a run of new customers wanting to go to their network… assuming it is still their network and AT&T has not already bought it.
Here is an expert from the T-Mobile site.
Already have a GSM phone or iPhone that you need to activate—or have an unlocked GSM phone you want to use on the T-Mobile network? Just get a Micro SIM card and choose a plan. Slip the ready-to-use Micro SIM Card into your phone and you're ready to go.
$9.99 for the card, free if you get a 2 year contract.