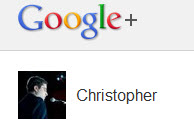 I just saw this Via Dana Oshiro on NewShelter. I have not really taken to Google+ for the same reason I did not take to facebook.  Too much scrolling.  What i like about Twitter, and still find myself going there first, is everyone is limited to 140 char and replies are not shown by default.  There is a way to do that, which will be supported after a major overhaul of TwittFilter. So I have not really looked into these that closely, but hey, you might want to know how to use Google+ better, if you have not already seen 50 posts on it already.

1. PRESENTABLE URLS
Your current Google+ URL is probably quite ugly and tough to remember when you just look at it in the browser bar. Although this site lets you create a Google Plus vanity URL because it's a redirect there's a chance that it could be hacked to redirect your links to spam sites. Instead, it's probably best to just list http://profiles.google.com/username. Mine is profiles.google.com/dana.oshiro. Note: I did make a short URL.

2. GOOGLE + SHORTCUTS
While these are a bit buggy, for the most part these shortcuts seem to work in navigating Google Plus.

@Username = tags other users so that they can see updates in their profile/stream
J = scroll down
K= scroll up
Enter = Start commenting
*text* = makes the text inside the brackets bold
_text_ = makes the text italics
control + and control – = zoom in and out on your circles
(and one more) strike is with – –


3. SHARING & PRIVACY
The Chrome Web Store features a Chrome Extension that allows you to share your posts to Twitter, LinkedIn and Facebook. While it's not a perfect application, it allows you the option of pushing out to your other networks. Alternatively, if you want to limit your sharing within Plus, choose a specific Circle to share with and if you want to further limit those shares, click the arrow at the top-right of the post and choose "Disable reshare."

4. EXPORTING YOUR CONTACTS & CONTENT
Naturally as a new social network emerges, users look for ways to import their existing identities from site to site. Facebook isn't making this easy. Despite the fact that 37,000 users have already installed Facebook Friend Exporter, open source developer Mohamed Mansour must update the app continually in a race against Facebook's efforts to thwart it. As for photo exports, at the time we wrote this post, Move2Picasa was down for maintenance but scheduled to be up again later today. Lockergnome's Kelly Clay also posted a great tutorial on moving photos from Facebook to Google Plus here.

5. MEASUREMENT
Funnily enough, this article using basic campaign analytics to measure Google Plus just hit my Google Plus stream. In the next few weeks we'll be testing out some of these theories and begin to look at the affects the new service has on your traffic.

6. CIRCLE THE LEADERS
I don't care what anyone says, Mark Zuckerberg might be in the most circles, but everything I know about Google Plus I learned from Gnomedex's Chris Pirillo and ReadWriteWeb's Sarah Perez. I've added them to a Circle entitled "Circle Whisperers", you should too.