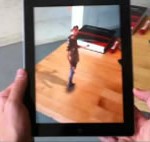 Here is a pretty cool demonstration done by Laan Labs that takes the video and depth mapping information from a Microsoft Kinect and uses that data to create a 3D model for an augmented reality mobile application seen through the iPad 2.
Basically how this works is you shoot something, like yourself, in front of a green screen. Then you can place that video , live in 3D space as viewed through the iPad!  Uber cool.
The String Augmented Reality iOS SDK, developed by UK based String Labs, was the platform Laan Labs used to create the mobile augmented reality experience.