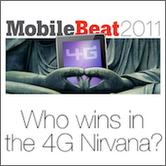 MobileBeat 2011 — VentureBeat's 4th annual flagship conference on the future of mobile — on July 12-13 at the Palace Hotel in San Francisco, is gathering the brightest minds in the industry to explore this year's hottest macro trend: the arrival of true mobile computing now that 4G is here.
There's no doubt that 4G is more than just a speed upgrade. It allows consumers to use the mobile web like their home broadband connection, which is spurring untold innovation from all major industry sectors. At MobileBeat 2011, We'll dissect these multi-billion dollar sectors that are being transformed by the new, resource-rich mobile networks and platforms: Payments, e-commerce, phone & device makers, cloud, web development, mobile gaming, and more.
Learn firsthand what the major players from within these sectors are doing to leverage 4G. PeriVisioN readers click here and use discount code "VB-Peri" to get 20% off!
NEW. This discount applies to GamesBeat as well! Grab it while you still can!
Recently confirmed speakers:
Jason Spero, Head of Mobile,Google

Jeremy Stoppelman, CEO & Co-Founder, Yelp

Humphrey Chen, Executive Director New Product Technologies, Verizon Wireless

Stephanie Tilenius, VP Payment & Commerce, Google

Laura Chamber, Senior Director, PayPal Mobile

Aaron Levie, CEO & Founder, Box.net

Matt Murphy, Partner, Kleiner Perkins Caufield & Byers

David Williams, VP of Mobile Products, AT&T

Mihir Shah, President & CEO, Tapjoy

Rich Miner, Partner, Google Ventures

Omar Green, Director of Strategic Mobile Initiatives, Intuit

Krishna Subramanian, Co-Founder, Mobclix

plus many more!
You'll also get a peek at 20 of the hottest new mobile startups in the applications and infrastructure/services categories as they present live onstage at the MobileBeat 2011 Startup Competition.
Secure your spot for two packed days of groundbreaking content and unparalleled networking opportunities. MobileBeat has sold out every year to date, and this year's program is laying the foundation for what promises to be the hottest mobile event of 2011.
Join 700+ mobile industry leaders – from the major U.S and international carriers, to the top device makers, developers, startups, marketers, investors, and press – as we explore who will win in the 4G Nirvana!
PeriVisioN readers click here and use discount code "VB-Peri" to get 20% off!