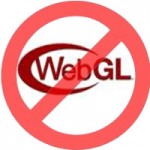 As an advocate of web3d and those efforts to make it ubiquitous, I have questioned why Microsoft has not supported WebGL in their Internet Explorer browser when every other browser maker does.
Seems the problem for Microsoft with WebGL is over security concerns. A recent set of reports by UK-based Context Information Security, WebGL – A New Dimension for Browser Exploitation and WebGL – More WebGL Security Flaws, have not helped this issue. On the Microsoft Technet blog, there is now the explanation on why WebGL is considered harmful.
Of course the inter-web is full of comments and blogs talking about this, but one post that really stood out to me is from Avi Bar Zeev's Reality Prime blog titled Why Microsoft and Internet Explorer need WebGL (and vice-versa). A great counterpoint to the concerns stated above and definitely worth the read.
I agree with Avi that there is much Microsoft could help with concerning these 'security issues' with WebGL. Already web developers that want IE to support WebGL and have begun telling this to Microsoft via Twitter ( hashtag #IEWebGL) with why they want it. Let's hope they decide to participate with everyone else, and make 3D on the web safer and better in the way that only Microsoft can.