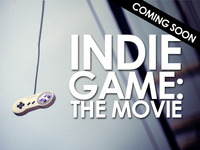 Kickstarters ability to get projects off the ground is not new news, but every now and again, I'll get an email to remind me just how cool this service is. The Indie Game movie just got funded in 24 hours,  so I thought I would post up the email showing yet again, you can make things happen if you just try.  Video at the end of the post
Good Luck guys!!
In just a smidge over 24 hours, we were able to reach our Kickstarter goal.  The campaign currently stands at $ 37,503 from a very generous, big-hearted crowd of 804 people.  Our first Kickstarter go-around (May, 2010) saw our initial goal of $ 15,000 raised in 48 hours.  We hit that mark in the first 9 hours this time.

We just wanted to say a quick word of thanks for all the coverage and support.  The articles, posts and tweets were invaluable, and we really appreciate every bit of it.

Also, it's near-impossible to communicate how grateful we are to the fans and supporters of the film.  It's quite clear that the community really wants to see this film made.  And we intend to do just that.

The total raised is already ear-marked for specific post production expenses, but money  raised beyond the goal mark will allow us to add to the production value and audience experience even further. We are going to be working on this thing and making it as good as it can be, right up until they pry it out of our still-editing fingers for the premiere

Over the past 24 hours, we've tweeted & emailed  hundreds upon hundreds of 'Thank You's' but it still doesn't seem to do the trick.  So, we are going to honour this fantastic demonstration of support the absolute best and honest way we know how…

…We're going right back to work.

Thank you again for your support.  We have some information linked below, and if you'd like anything else, we are also up for chat/interview/whatever you may need.

Take Care,

James Swirsky & Lisanne Pajot

Useful Links
Indie Game: The Movie Official Trailer from IndieGame: The Movie on Vimeo.