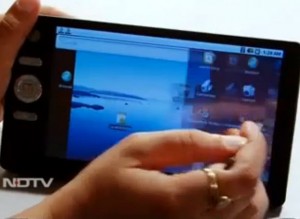 I will do more follow up on this later tonight, but I wanted to get this posted.
India's much-hyped $35 'Sakshat' tablet appears all set to go on sale at the end of this month, after experiencing a delay earlier this year. Originally intended to be a $10 tablet, there are still very high hopes for this slightly more expensive iteration.
The only catch is that the revised $35 dollar price tag seems to have been revised again to $49 (Rs 2200). But with government subsidies, that could go back down to around $25 (Rs 1100). It's all very confusing really… But what's pretty clear is that an 7-inch Android tablet is a steal at either of those prices.