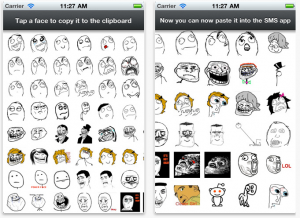 I have only just started to see this with people I know, but rage faces are spreading via SMS chat.  So I figured I should look up this up.  Yes, apps are already in the Apple and Android store and ready to for download.
They work well enough. Simply click on the rageface you are interested in, it copies it to your clipboard, then paste in SMS.  And with richtext coming in iOS 5, I would bet you can do this in email as well.
BTW here is a link for an iOS rage comic generator in case you were looking for that.
Enjoy.
http://itunes.apple.com/us/app/rage-faces-for-sms/id406504595?mt=8
http://www.androidzoom.com/android_applications/communication/rage-faces_osfc.html