Love this.  The new Duke Nukem FPS game came out a while back and the reviews are now coming in.  And they are not good.  In fact, most people who reviews the game have basically trashed it.  Fair enough.. That happens, especially with a title that has so much history.  If you remember, 3D Realms has been working on this title for 10 years, pretty much a running joke in the industry.  They finally gave up and closed their doors so Take-Two Interactive Software gave it a go.  Basically take COF 3D tech and gaming arch and hoping to win just on the title.  Bad idea.  The reviews were pretty harsh as you can see from metacritic.  However the story gets interesting when @TheRednerGroup, who was the PR company for this release sent out the following tweet.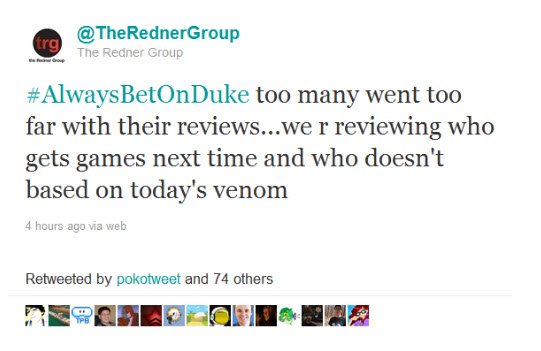 Nice eh?  Course, the twitterverse had a field day on this one.  The guy from the redner group apolgied, but too late.  I have a feeling Take-Two Interactive will not be working with these guys again..  So now what?  You just tweet that which must not be tweeted.. Well first you man up and apologize..
So what can they now?  I heard they have been calling / emailing major reviewers saying sorry, and this may blow over in time, and there are plenty of clients NOT in the gaming industry they can still chase, but for awhile, life is going to be a bit tough at Redner.   So TIL NEVER tweet in anger…. never.