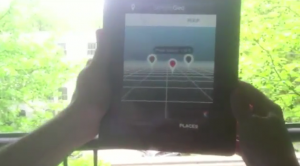 Just saw this across the twitters, bookmarked it, then forgot to post it up.  ah well.  I have not tried it but watched the video and yea, it looks like a much improved way to get your content into an AR app.  If anyone has tried this, give me a ping and I'll post up your thoughts.  Video at the end of this post.
Spot Metrix this week announced the availability of a mapping API for their 3DAR augmented reality iPhone SDK. Augmented reality allows smartphone users to see nearby locations by superimposing geographic data on top of a camera view. While many existing iPhone apps have this capability, it has traditionally been a difficult and time consuming feature to build into an applications. What is significant about the new 3DAR API is that it enhances the standard map view provided to developers by Apple, allowing developers to transform map applications into 3D geodata visualizers with just a few minutes of programming.

The new API was demonstrated at the Augmented Reality Event to an audience of mobile developers and natural user interface design experts. Existing beta customers have already published apps such as SP Next Bus and Japanoramic, but the ease of 3DAR's new Mapping API makes augmented reality a breeze for any iOS developer.

Developers can download a free version of the SDK from the 3DAR website, www.3dar.us.

Spot Metrix launched 3dar.us to aid new 3DAR developers with documentation and a 5 minute tutorial video that demonstrates the ease with which existing mapping applications can be enhanced with AR features.