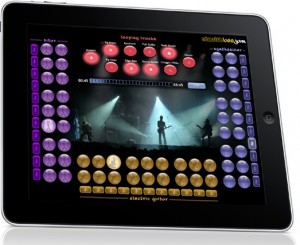 I have not tried myself but it looks interesting.  An alternative to garage band and basic looping apps.   I wrote a bit about it here.
Steathbee Jam Music App
.
Here is the press release..
Several months ago, when we launched Stealth Bee Jam for the iPad, we also sent you an email comparing Stealth Bee Jam to Garage Band.

This email is to announce several new developments in the world of Stealth Bee Jam:

– For the upcoming Memorial Day weekend, Stealth Bee Jam is going on sale for three days.  Instead of the regular $2.99 price, it will be available for FREE in the iTunes app store!

– This week we are also releasing a new jam song, Distant Skies, for in-app purchase, as we continue to expand the app's musical possibilities.

– We are currently hard at work putting the finishing touches on the iPhone version of Stealth Bee Jam.  If you are interested in a sneak peek at an early pre-release copy, please let me know.  Promo codes are also available for the iPad version.

The jam is on with Stealth Bee Jam!