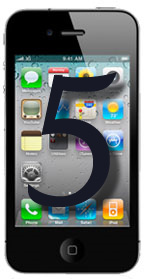 Many of us really thought the next iphone, the 5 would be a 4G i.e. LTE. Well, seems that comments from  Apple COO Tim Cook, who said that "first generation of LTE chipsets force a lot of design compromises,"  during the Apple's earnings conference call on Wednesday. Well, sounds like this is about as accurate as its going to get.  Funny I really thought LTE would be with the 5, so if the iphone5 will have the same 3G capabilities, and most likely the same form factor, what is going to be so different?
Well rumor control says there will be a 8meg camera and the A5 chip which is suppose to make gameplay screaming… but is that really enough to make people upgrade?  I'm not sure that is going to be enough… At least for me  I know it wont be.
Quick update.  Although there will not be LTE, t-mobile and sprint (and china?) should have support. Also hearing it may be called the iphone 4s.